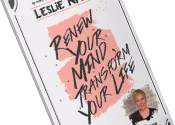 Grab your copy of my New # 1 International Bestselling Book,
After having worked at the White House for over 11 years, anyone I hire must first pass my "Presidental Quality" test.
During our consultation, Leslie immediately put me at ease, listened to what I needed and showed how she could help me.
Leslie worked to create a relationship with me and my company, one that will now last a very long time.
If you need a copywriter, I highly recommend Leslie. She gets a perfect score on my "Presidential Quality" test.
—Dr. Ted Vickey, President, Fitwell, Inc. and Professor of Kinesiology, Point Loma University
"Leslie's writing is clear, creative, and innovative. She is consistently on time and on point.
After sending an email series she wrote last year, my books sales went up by EIGHT TIMES!"
—Donna Bianchi, HI, Author & Transformational Life Coach
"Leslie's research is impeccable, her writing crisp and clear, and the formatting easy for web visitors to read.
I would certainly recommend Leslie as a copywriter."
—Randy Kirk, CA, Randy Kirk & Associates Marketing
LET ME SHOW YOU MORE